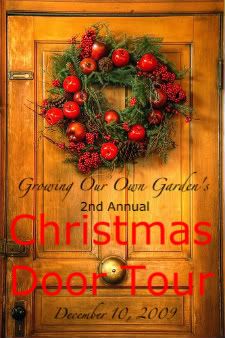 Lianna over at Growing our own Garden's
is hosting her
2nd Annual Christmas Door Tour
, so I wanted to share some of the decorations we have up around our entrances.
Lamp post at the corner of our sidewalk

The gate leading into our patio area, I added some evergreen to my planters along with some bright green glitter spikes.

This is one of my mum platers cut back for the season but I filled it in with evergreen spikes, glitter spikes, and a candy cane light.

And finally, this is our wreath on our entrance, I think I still want to add a nice big bow to this.

Mom and Dad's Entrance, I love their red doors, Mom has always had a bright color for her doors.
(When we lived in Connecticut we had bright orange doors, funny how she is afraid of color inside the house, Ha!)
Our inside entrance from Mom and Dad's half of the house

Welcome Please come in!

Merry Christmas!