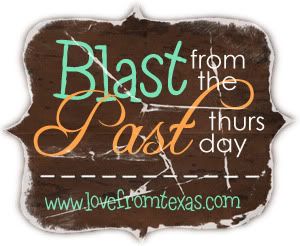 If you're anything like Jessica from Love From Texas and me, you love looking through old pictures! There's just something about the grainy quality, shoddy angles, and tattered edges that holds so much sweet nostalgia... At Love From Texas, Jessica shares her most treasured photos every Thursday. It's a great way to honor our sweetest memories - not to mention it's a super easy mid-week post! So I am going to jump in the fun and I hope you will too, because I don't know about you, but 41 years sure does give me a LOT of old grainy pictures to post.
Here is my first submission for Blast from the Past
This is actually a picture I didn't know existed. A dear family friend recently posted this on her facebook slide show project, she has been going through her old pictures and scanning them to her computer. This is a picture of me with two of my siblings Jimmy on the left and my sister April sitting behind me. My best guess is that I am around the age of 3 or 4,
Roxbury Falls
, Roxbury, Connecticut.