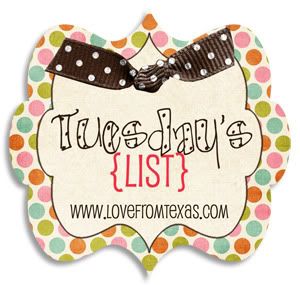 Tuesday List and this week is Wish List and of course I have some wishes to share.
Wish ONE a healthy pregnancy
Wish TWO
is for a vacation to Disney World for my ENTIRE family,
all 17
and one on the way of us.
Wish THREE is for a great camera to take pictures of my kids and before the end of October. HINT HINT watch for the camera strap to show up here in a giveaway SOON from SugarPop designs.
Wish FOUR is for a Wii that my family and I could enjoy
Wish FIVE is for a Pink iPod
Wish SIX,
a pink blackberry
Final Wish
for today, a baby girl to put in this cute car seat
Which one do you like better?
Both of these car seat covers can be found on etsy HERE
But my God shall supply all your
need
according to his riches in glory by Christ Jesus.
Philippians 4:19
These things are just fun wishes
, except for #1, I trust that God will provide for all of our needs and anything else is just the bonus of life for my family and I to enjoy for a time.