Melissa at Home Grown Families and Nicole at Mama to 3 Blessings, have decided to team up and host a Friday Blog Hop every Friday! They invite you to join them every Friday to make more blog friends and to get more blog followers as well as the opportunity to follow other great blogs out there!
AND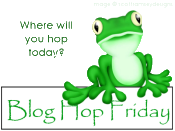 The fourth edition of Blog Hop Friday, hosted by My New Life As Mom, Chubby Cheeks Thinks, Take A Mom's Word For It, Bree Bee's, This Adventure Our Life and Belly Charms!
Hop on over and make some new blog friends!