Is hosting an amazing giveaway right now for a Peg Perego Aria Twin 60 40 Double Stroller, this giveaway goes through October 24, 2011. Go to Mama to 4 Blessings for MANY changes to enter.
(the following information is directly from Mama to 4 Blessings, go to her blog for her full Review) Aria Twin 60 40 Double Stroller is a convenient side–by–side stroller that is not only compact and superlight, but will also fit through the standard door with ease. Keeping two children happy is simple with the individual adjustable hoods with a loop to hang their favorite toy, individual reclining backrests and individual child trays.
This stroller is ideal for twins or two children of different ages. The 60–40 gives you versatility of using a

Primo Viaggio SIP 30-30

car seat (sold separately) for an infant in the 60 seat, while placing the older child in the 40 seat. As the baby grows out of the car seat, the 60 seat can be used for the older child and the 40 seat for the younger child. Both children can view the world ahead.

Product Features:
~ Travel System compatible – "60" side accommodates a car seat, and "40" side is perfect for an older child.
~ As children grow, older sibling can sit in the "60" side and younger one can use the "40" seat.
~ Large, individual hoods are independently adjustable and ratcheting.
~ Individual child trays independently open and remove for easy access to each child.
~ Stands alone when folded.
~ Hood with loop to dangle baby's favorite toy.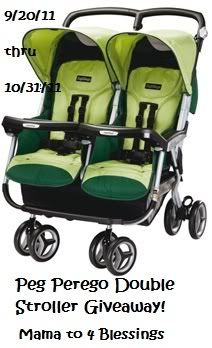 Go HERE to Enter and for more details!!