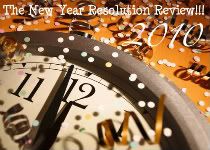 The Gardener
(aka Lianna) is having a New Year Resolution Review 2010 party and so is Kelly over at
Kelly's Korner
on January 8th!
Thinking about moving into 2010 is so amazing to me, it seems as though time is flying by so quickly and it is slipping through my fingers before I can grasp all the special moments. I am not really a New Years Resolution Setter, I am more of a goal setter, and sometimes it fun and sometimes it sad to look back at the end of the year and see the things I accomplished or didn't.

This year I am settling realistic goals for myself, ones that are not only good for me, but also for my family.

1. Continue with my 2009 weight loss efforts and loose 40-60 pounds in 2010. I know this one is so typical but I have really made strides in making time for me this past year and lost 21 pounds and would like to continue making time to be a healthier me for my boys and my MoG.
2. Drink 8 glasses of water each day.

3. Become consistent with a daily devotional that feeds me as a mother and provides me with spiritual tools to lead my 2 little Boys.
4. Work on getting rid of MORE of our debt and managing our finances TOGETHER.

5. Make time once a month to go out on a date night with my husband so we can truly spend time talking and focusing on us. This past year with Jon becoming more active, it seems we are constantly in "Correction" mode and we collapse after the boys are asleep, we never seem to get quality time for us to just be the couple we were before the boys and I hope to fix some of that in 2010.

6. Finish our Master Bedroom closet renovations and bookshelf in our bedroom so that we can convert the office into a bedroom.

7. Clean out office and prepare it for Baby #3 (prayerfully) or a guest room.

8. Redecorate the boys room when we get bunk beds later this spring.

9. Build coffee table design that I like from Ballard Designs only with David's airplane window set into top.

10. Finish the bathroom.

11. Work harder on building my business and being consistent with calling clients.

12. Develop and stick to a household budget.

I know that much of my list seems more like a to-do list, but that is my goal, to accomplish in 2010 things that we have put off or dragged our feet on completing. It will be fun coming back in December 2010 and seeing my goals on my blog for the first time and seeing home much of it I accomplished.

I pray that God guides you in setting your goals for 2010 and that you will be successful in accomplishing them. Hop on over to
Growing Our Own Garden
and post a link to your New Years Resolution Review.