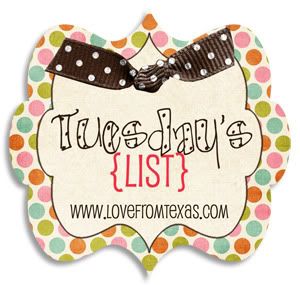 Today over at Jessica's blog Love From Texas the Tuesday's List activity for today is our FAVORITE Go-To Recipe. So mine is Chicken Casserole! I love making this dish because it is so simple and it freezes wonderfully. I ALWAYS make a double batch and put one back in the freezer to have for another family meal or to grab quick for a friend who needs a meal.
Preheat oven to 350 degrees




Boil 4 chicken boneless chicken breasts, chill, then shred (a quicker method is to use 2 large cans of chicken meat packed in water).



*Benefit to boiling is that you can add some vegetables and make chicken stalk from the water to set back in your fridge for other recipes.
Cook 1 cup of Rice in 2 cups of chicken broth
**Mix cooked rice with the following ingredients
1 can CM. Mushroom soup (I love mushrooms so I buy another can of mushrooms drain and chop them up fine to add extra)

1 can CM. Chicken soup

1 cup of Mayo (I prefer Duke's Mayo, do NOT use Miracle Whip)


1 cup chicken broth




1/2 tablespoon of lemon juice



Salt & Pepper to taste (I also like to add a dash of Emril's seasoning)


Spread into casserole dish and bake for 15-20 minutes



YUM! YUM! Add some hot rolls and a side dish of veggie's and you have a great meal.
Homemade White Pizza


Polynesian Spam, Pineapple, & Cherries over Rice
Slow Cooker Meatloaf


Here is the list of other scheduled Tuesday's Lists coming up:
2.2.10 : Favorite Bible Verses. What pieces of Scripture do you turn to again-and-again to for strength and renewal? Why are these verses so special to you?

2.9.10 :
Valentine's Ideas
. What will you be doing February 14th? Do you have any lovey dovey traditions worth sharing? What about gift ideas, or cute ideas for Valentine's to send to school with your kids?
2.16.10 :
Typical Grocery List
. Show us what your weekly grocery run looks like! What are the items that seem to always find their way in to your buggy?
2.23.10 : Things You'd Love to Have, but Probably Never Will... Pretty self-explanatory ;)

3.2.10 : Spring Cleaning Tips. Do you have a Spring Cleaning routine? Or just a weekly routine in general? What are some products that you find to work wonders in your home?

3.9.10 : Bucket List. What are some of the crazy, totally impractical (or not) things you'd love to get around doing in this lifetime?

3.16.10 : Favorite Snacks. (Because I'm a 'grazer' by nature...) What are some of your family's favorite healthy snacks? Do you have any creative, kid-friendly ideas?

3.23.10 :
What's in Your Purse?
This would should be fun, and for those of us with kids...
Interesting
.
3.30.10 :
What's on Your Playlist?
What are some of your favorite songs/artist that currently grace your iPod or stereo? How do you divide up your playlists?
4.5.10 :
Favorite Crock Pot Recipes
. I loooove cooking with my crock pot, and am always on the hunt for great new recipes. Maybe you can help...
4.12.10 :
All Time Favorite Movies
. What are the flicks that you could just watch over and over and never get sick of?